View of Mr. Minato's field Okuyuta field in Wazuka: February (left picture) and early April 2018 (right picture).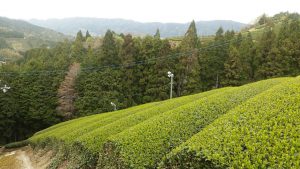 The color of the trees is totally different when the young spring leaves start growing!
Wazuka is like a big bowl: the valley at the bottom experiences colder weather with cold air trapped in between the surrounding hills, while the weather is hotter on top of the hills. As such, the growth of the new sprouts is more advanced on the tea trees situated on top of the hills, than on the trees situated closer to the valley.
While hiking the sharply slanted slopes, it is very interesting to see the gradation of color from dark green (not many young sprouts growing on the trees yet) to flashy, neon like, bright green on top of the hills, where the spring leaves are growing faster.