High quality JAS Organic Teas – Origin Uji & Kagoshima
Rishouen sources high quality JAS Organic teas directly from excellent producers in the Uji and Kagoshima regions.
JAS Organic is the certification beholding the strictest standard of organic production in Japan. As a tea processing facility, we, Rishouen Tea Co., possess the JAS Organic certification so that our teas can be handled by organic certified actors from start to finish. Our organic processing actitivites are overseen by the Hyogo Prefectural Organic Agriculture Society (HOAS).
The list of organic teas available at Rishouen is listed below — the prices and format listed are our retail prices meant for private orders. Please do not hesitate to send us an e-mail for wholesale prices and international shipping conditions.
JAS Organic Loose Leaf Teas
JAS Organic Gyokuro Mizuumi, 2019 Spring Harvest

This spring harvest Gyokuro of the Saemidori cultivar is produced in Makizono, Kagoshima by Mr. Nishi, a producer known for his excellent organic production methods.
Having been shade grown 21 days before harvest under a dark fabric hung above the tea trees to prevent the full light of the sun from reaching the leaves ( 'tunnel' shading method), this tea reveals the deep fragrance typical of shaded teas, and contains increased chlorophyll levels which results in a deeper, sweeter flavor and reduced astringency.
The lush, dark green, finely shaped leaves develop an incredible Umami that will make the drinkers feel at peace while charming their taste buds with  delightful sweet notes.
Retail value: 100g/ 2304 yen, 80g/ 1852 yen
JAS organic Sencha Saemidori, 2019 Spring Harvest

The Saemidori, or « clear green » cultivar results from the crossbreeding of the asatsuyu and yabukita cultivar. This cultivar is native to Kagoshima and is characterized by a fresh, citrusy aroma as well as a bright green liquor and a sweet flavor with deep Umami.
To add to the natural sweetness of its cultivar, this Sencha is composed of leaves grown in a field covered from the sun 11 days before harvest to allow for the extraction of mellow flavors after infusion.
Our organic first flush Saemidori  is produced on the foot of the Kirishima volcanic mountain range by Mr. Nishi, one of the best producers in Kagoshima. Its glossy emerald green leaves are kneaded into elegant needle shapes, allowing for the added pleasure of viewing beautiful leaves before tasting a delicious tea.
Retail value: 100g/ 1404 yen
JAS organic Sencha Fukamushi Asanoka, 2019 Spring Harvest

The Komaki family (father, mother and their two sons) produces high quality organic teas on their estate in the Hioki district in Kagoshima. 2018 is the first year that they can offer this Sencha of the Asanoka cultivar as it takes several years for a field to be able to yield organic leaves after under going the switch from conventional to organic production.
This tea is a Fukamushi Sencha, which means that it has gone through a long steaming process. The leaves are lush and pretty, with the powdery appearance typical of Fukamushi teas.
As a result of this steaming method coupled with a hot final drying, this Sencha will infuse quickly in hot water and will offer a deep flavor. The yellow green liquor is thick and full bodied, revealing a fresh and bold steamed green flavor coupled with a rich umami and light sweet undertones. Due to these characteristics, this tea is perfect for cold infusion in regular or sparkling water.
Retail value:100g/ 1347 yen
JAS Organic Sencha Yabukita, 2019 Spring Harvest

This spring tea of the Yabukita cultivar is produced by Mr. Nishi in Makizono, Kagoshima.
This tea is composed of leaves grown in a field covered 10 days before harvest so that they can develop a mellower flavor than traditional Japanese Sencha which are absolutely not covered from the sun before harvest.
Its leaves have a very beautiful thin needle shape and a dark and glossy green color.
The cultivar Yabukita is used for the production of 70% of Japanese green teas, and is especially fit for the production of balanced Sencha revealing both a round umami and a deliciously refreshing vegetal flavor.
Our JAS Organic Sencha Yabukita offers a very deep savory flavor with sweet and mellow notes at lower temperature, and develops a subtle astringency at higher temperature. This tea perfectly expresses the quintessence and balance of Japanese Sencha.
Retail price: 100g/ 1018 yen
JAS organic Sencha Karigane Soukun, 2019 Spring Harvest

Karigane is the name used for stem teas in the Kyoto region, although the most common name for this kind of tea in Japan is 'Kukicha'.
Sweet and floral, this tea is a subtle and high quality Kukicha resulting from the blend of Sencha leaves and stems.
Easy to brew, this tea is a must have for every tea lover. We highly recommend trying it out as a Mizudashi (room temperature) brew using flat or sparkling water (low mineral) for a very fruity and refreshing tea.
Retail price: 100g/ 518 yen
JAS Organic Genmaicha Yamabuki

This comforting daily tea is composed of 50% organic roasted brown rice from Hokkaido and 50% organic tender 2nd flush Sencha grown in Kagoshima.
This gourmet tea is easy to brew and can be enjoyed casually at anytime, on its own or accompanied by sweet and savory snacks.
When infused at hot temperature, this blend reveals a deliciously warm and inviting roasted rice fragrance. Its golden liquor will coat the drinker's tongue and palate with round, almost sweet popped rice flavors paving the way for a hint of refreshing Sencha green notes in the finish.
During the hot months of late spring/ summer, this tea will make a mellow and refreshing cold brew that can be infused in high quantity and enjoyed chilled throughout the day.
Retail price: 100g/ 454 yen
JAS Organic Stone Ground Matcha

JAS Organic Matcha Seian –  Precious Ceremonial Grade
Blend of hand picked, 1rst harvest Tencha – Uji region

The JAS Organic Matcha Seian is a rare and precious tea composed of a blend of spring, hand picked Tencha produced in Fushimi-ku, Kyoto prefecture, by Mr. Nakanishi.
Organic production is rare in the Uji region as parcels are small and close to each other. Among this small production of organic teas, manual harvest of the fields is even more of a rare occurence.
Mr. Nakanishi harvests his fields only once a year for the spring harvest, and gives everything he has to turn this one harvest into astonishing quality organic Tencha that will be the raw material for extremely high quality organic ceremonial grade Matcha.
The fields are covered 30 days before harvest under a double layer cover that will block 95% of the sunlight from reaching the leaves of the tea trees. As a result, the leaves grow very thin, which is ideal for traditional grinding in a stone mill, and they also stay tender, without hardening, while developing high amounts of L-Theanine, the amino acid responsible for the smooth, umami flavor found in high quality Japanese green teas.
During the spring harvest, the youngest, most tender leaves are hand picked and processed immediately – steaming, drying, removal of stems and rough matters – then stored in refrigerators in their "Tencha" state before being ground traditionally in a stone mill.
The result of this carefully controlled process is a finely ground, vibrant green powder suitable both for the preparation of Usucha (thin tea), and Koicha (thick tea)  with extremely smooth flavors and no astringency.
This Matcha reveals an Umami rich, creamy, thick and frothy liquor with a distinctly sweet, long lasting flavor that will fill its drinkers  with a deep sense of tranquility and satisfaction.
Retail price: 20g can, 3000 yen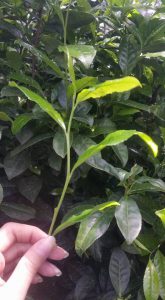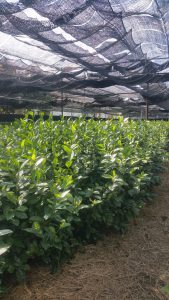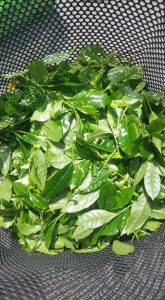 JAS Organic Matcha Kotobuki – High Quality Ceremonial Grade
Blend of 1rst harvest Tencha – Origin Makizono, Kagoshima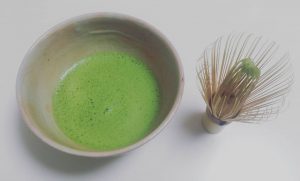 This vibrant green powder is composed of tender spring Tencha leaves shade-grown for 20 days before harvest on the pristine slopes of the Kirishima volcanic mountain range in Makizono, Kagoshima.
The leaves are steamed and dried immediately after harvest to maintain their freshness. The next step is sorting and de-stemming, to obtain the raw material for Matcha called 'Tencha', which is blended and stored in a refrigerator before being ground in a stone mill gradually throughout the year.
Always freshly ground, this organic Matcha reveals a velvety jade liquor that will offer a deep and mellow umami balanced with a delightful slightly bitter sweet flavor in the finish.
This tea is perfect for the daily preparation of creamy, frothy Usucha (light ceremonial Matcha) to be enjoyed casually at anytime.
Retail price: 40g can/ 774 yen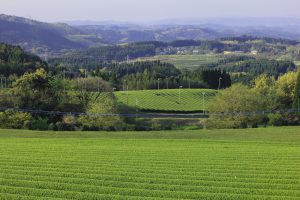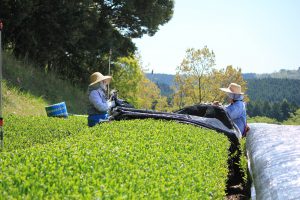 JAS Organic Matcha Keiki  – Cooking Grade Matcha
Blend of 2nd harvest Tencha, Origin Makizono, Kagoshima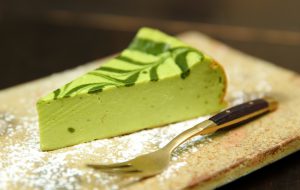 Our JAS Organic Matcha Keiki is composed exclusively of high quality organic Tencha leaves shade grown in Makizono, Kagoshima especially for Matcha production and ground in a stone mill with the greatest of care.
Always freshly ground, this fine powder is designed to enhance modern treats with a vibrant jade green color as well as a refreshing vegetal sweet flavor that does not fade after baking and will not lose out to the flavor of the other ingredients used in the recipe.
This high quality culinary Matcha can be used as a garnish or ingredient in cakes, pastries, confectionaries, ice cream/ gelato, latte, smoothies, milkshakes, cocktails and more.
Retail price: 100g/ 1100 yen
International shipping available. Quotations can be provided via e-mail. Payment for retail orders is requested via Paypal.
E-mail :info@rishouentea.com