Direct Trade Uji Single Field Teas Available At Rishouen
"Single field", the term that we use in English to describe our non blend teas from Uji, is a direct translation of the Japanese term 単一畑 or "tan itsu batake". The literal,  word by word translation of this term from Japanese to English would be  "Only one Field".
Rishouen single field teas are composed of small batch spring harvests leaves sourced by our tea master directly from trusted producers in prestigious Uji tea growing regions such as Wazuka, Harayama, Dosenbo, Shirakawa or Kyotanabe.
These teas contain leaves of a single cultivar (tea variety), grown in a single field, by a single producer.
As such, they each have a unique character representing the undiluted message of the soil, rain, and climate of the soil the field they were grown in, as well as the skills and care of their producer.
The pricing listed below is the retail format meant for private orders. Please do not hesitate to contact us by e-mail should you wish to learn about single field teas available in wholesale format for international shipping.
2021 Spring Harvest- Single Field Uji Gyokuro
Hand Picked Gyokuro Gokou – 50g, 2500 yen
Cultivar: Gokou – Location: Kyotanabe – Producer: Mr. Yoneda
Kyotanabe, in the Kyoto prefecture, is renown for its production of high quality Uji Gyokuro revealing a deep umami mellow flavor.
The Gokou cultivar hails from the Kyoto prefecture. The shading of the fields before harvest to obtain umami-rich teas is a production method originating from Kyoto, so it is not a surprise that many of the varieties created in the Kyoto region are meant to be used for the production of shaded teas.  (Gyokuro, Kabusecha, Tencha).
Within the varieties meant for shaded tea production, the Gokou variety is one of the cultivars offering the best results.
The Gyokuro produced by Mr. Yoneda is hand picked, meaning that only the most tender leaves are taken from the trees in spring to produce this tea. The tea trees are not trimmed to fit the shape of a harvesting machine: they grow freely (except for a trim made after the spring harvest) and are harvested only once a year. This means that both the producer and the trees give everything they have to produce the best quality tea each spring.
After infusion, this high end Uji Gyokuro reveals a wonderful fresh fragrance of ripe fruits typical of the Gokou cultivar.  A few drops of its velvety light green liquor are enough to feel a firework of sensations, including refreshing floral notes and a deep, rich, yet elegant and not overpowering umami, lined with a light undercurrent of pleasing astringency in the finish.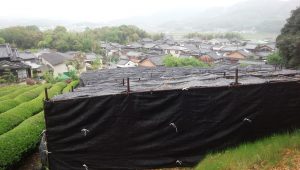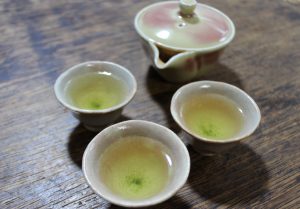 Gyokuro Gokou – 50g, 850 yen
Cultivar: Gokou – Location: Uji Tawara – Producer: Mr. Ookawa
Tana Oishitaen production method ( undirect, one layer vinyl cover on a shelf supported by aluminum poles at about 2 meter from the ground). Mechanical harvest.
Shading period before the 2021 spring harvest: 25 days.
Uji Tawara is composed of hilly terrain which beneficiates from the proximity of the Uji river,  and perfect climate for tea production. As such,Uji Tawara is one of the major Uji tea growing areas. This region is known for quality mechanically harvested Gyokuro.
Mr. Ookawa is a young producer working with his parents on their family estate.
This tea family has an original way to decide when to start shading the leaves:  they add up the highest temperature of each day following the sprouting of new leaves in spring.
The time for harvest is also decided based on the temperatures during the first harvest season.
They unfold the vynil cover that will shade the trees from direct sunlight when the total sum of highest temperature for each day after the appearance of the sprouts reaches 200 degrees.
The Gyokuro produced by the Ookawa family offers the fresh fruity fragrance typical of the Gokou cultivar, along with a full and rich, supple liquor revealing a strong umami, with a refreshing fruity flavor and a long finish.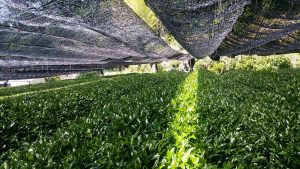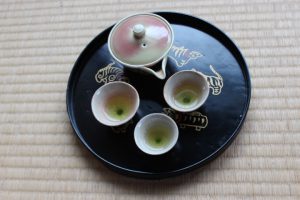 Hand Picked Gyokuro Komakage – 50g, 2000 yen
Cultivar: Komakage – Location: Shirakawa – Producer: Mr. Shibata
Shirakawa is a most famous in the Uji region as an excellent Gyokuro growing location producing teas possessing a most elegant shaded tea fragrance. This Gyokuro produced by Mr. Shibata is hand picked, meaning that it contains only the most tender, youngest leaves situated on top of the tea trees.  Furthermore, this tea comes from a field that is harvested only once a year in spring. The tea from Shirakawa reveals a beautiful fragrance combining fresh steamed greens, fruity and oceanic notes. The lightly colored liquor is thick and smooth,  soothing, and refreshing,  with a buttery feel and powerful sweet, savory undertones.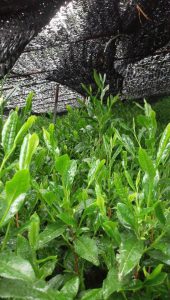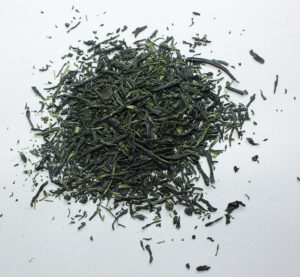 Gyokuro Houshun ―50g, 900 yen
Cultivar: Houshun – Location: Uji Tawara
This Gyokuro uses the Houshun cultivar which is a young cultivar native to Uji, registered in 2006. The leaves grown in Uji Tawara, Kyoto are elegant in flavor and savory taste.
2021 Spring Harvest- Single Field Uji Kabusecha
Kabusecha Ujihikari ―50g, 700 yen
Cultivar: Ujihikari – Location: Wazuka
The dark green leaves develop forest-like note with a bold taste. Rich umami covers your tongue with a sip and leaves sweet aftertaste.
Kabusecha Ujimidori ―50g, 600 yen
Cultivar: Ujimidori – Location: Wazuka
This tea produced in Wazuka reveals a typical spicy note of the Ujimidori cultivar and well balanced liquor with a taste of triangle: umami, sweetness and astringency
2021 Spring Harvest- Single Field Uji Sencha
Sencha Saemidori by Mr. Minato – 50g, 1300 yen.
Origin Wazuka, Kyoto prefecture. Single field, single cultivar.
Located in the Yamashiro region in the Kyoto prefecture, Wazuka is the chief Ujicha (Uji tea) production area, and the craddle of Japanese green tea culture. Nestled in sharply slanted hills, Wazuka town and its region enjoys an ideal climate & soil for tea production, and has been producing tea for 800 years, since the Japanese Kamakura era.
Mr. Minato is a young producer in his thirties, who works tiredlessly with his father on their estate in Wazuka.
Talking to Mr. Minato, our tea master & tea buyer, Naoki, had a deep impression of his  passionate efforts to growing the best quality tea possible, as Mr. Minato repeats actions meant to prepare for the Shincha season 3 or 4 times, when these steps are usually only taken once.
This is very time consuming, but, on this subject, Mr. Minato says that 'if it that can help make the final result even just a little better it is worth it'.
As this tea is not a blend, the leaves reveal the undiluted message of the cultivar, the soil and Mr. Minato's efforts as a producer.
Upon infusion, the liquor reveals a mellow flavor due to its cultivar — the Saemidori cultivar is known for its umami and reduced astringency– & the fact that the field has been shaded from the sun 9 days before harvest. (Not a direct cover, shading on a shelf).
The first infusion yields a deep vegetal umami (fresh steamed spinach notes) and appetizing fragrance of young greens, almost devoid of astringency in spite of the fact that the leaves were harvested only a few days ago.
The second infusion yields delicate green notes, revealing more of the Shincha invigorating flavor, but on a pleasant, reduced level. A long finish with a hint of astringency will tickle the tongue after drinking.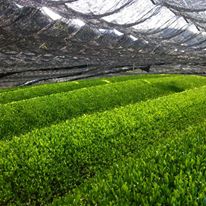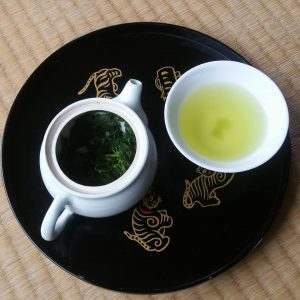 Sencha Yabukita Kin Jirushi – 50g, 1450 yen
Cultivar: Yabukita – Location: Harayama – Producer: Mr. Tsuji
This specialty tea composed of leaves of the Yabukita cultivar was grown for us in a single field by Mr. Tsuji in Harayama – a sharp hilled district in Wazuka known for producing some of the best Sencha of the Kyoto region.
The field yielding the Sencha Yabukita Kin Jirushi is situated at a 200 m altitude on an ideal tea producing location on a riverside, at the bottom of a ravine. This location experiences the high day / night temperature difference shaping mellow flavored teas. (Our tea master asked Mr. Tsuji to shade the field 5 days before harvest to emphasize the mellow character of the tea).
The field is also exposed to reduced hours of sunlight and to stagnant cold air and fog emanating from the nearby river, so the leaves grow slowly and stay very tender until harvest time. Red clay soil which retains nutrients well provides the leaves of the Sencha Yabukita Kin Jirushi with a full bodied flavor. The young leaves offer a sweet after taste, and a clear, refreshing fragrance opens up in the back of the nose in a nice retro nasal olfaction effect.
This Spring his tea field was greatly damaged by the frost. Frost-damaged leaves turn into darker and harder and cannot be used for teas. As it is a time consuming work to pick up survived leaves out of the died leaves, most tea producers don't do that. Mr. Tsuji, however, had put all his effort into harvesting only the survived leaves. Thanks to his hard work and his passion for tea producing, we could obtain the best quality tea in the past few years!!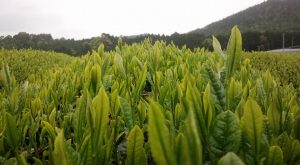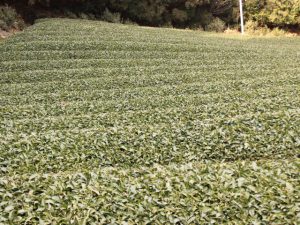 Sencha Okumidori by Mr.Yuki ―50g, 680 yen
Cultivar: Okumidori – Location: Dosenbo – Producer: Mr. Yuki
This tea produced by Mr. Yuki at 500m altitude on the Dosenbo plateau in the Kyoto prefecture is an authentic Uji Sencha grown in full sunlight without any shading period before harvest according to a traditional production method that is on the verge of disappearing in Japan. This is also a Sencha represents the undiluted message from the terroir of its growing location: its leaves of the Okumidori cultivar have all been harvested from a single field benefiting from a sandy soil, a feature allowing for good water drainage and a deep penetration of the tree roots. As a result, the leaves yield a neat, richly nuanced flavor after infusion. Registered in 1947, the Okumidori cultivar is known to produce mellow, high quality Sencha devoid of bitterness. The high elevation of the Dosenbo plateau emphasizes the natural smoothness of the Okumidori cultivar, especially, the differences of the temperature between night and day result in an accumulation of sweet components in the leaves. Before infusion, the leaves offer a fresh fragrance of aromatic herbs. After infusion, the liquor offers a flowery, vanilla like fragrance. At first the mouthfeel is velvety sweet, without bitterness. This mellow first sensation is then balanced with a light and refreshing astringency blooming in a long finish. This full bodied tea will offer deliciously fruity tannic notes at higher temperatures. Its savor will hold and change pleasantly from one infusion to the next.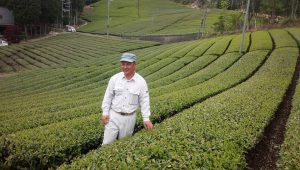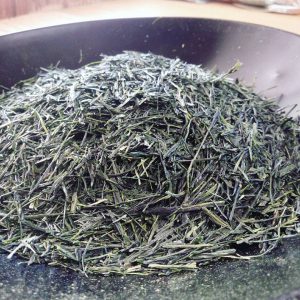 Sencha Sayamakaori ―50g, 700 yen
Cultivar: Sayamakaori – Location: Wazuka – Producer: Mr. Tanaka
This tea produced in Wazuka delivers a spring sensation in your mouth with a pronounced aroma as bamboo shoots or sweet corn. A liquor with smooth texture lingers on the tongue with a savory taste. A delightful refreshing astringency highlights the sweetness.
Sencha Ujimidori ―50g, 600 yen
Cultivar: Ujimidori – Location: Wazuka
Sweet and round liquor delivers cinnamon, vanilla like flavor and a lovely subtle bitterness. You could brew the tea whether in our recommend method or at high temperature.
International shipping available. Quotations can be provided via e-mail. Payment for retail orders is requested via Paypal.
E-mail :info@rishouentea.com