*** Houjicha Latte ***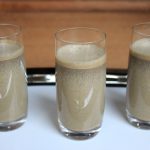 10g Houjicha Powder
15g sugar
500ml hot milk/milk substitute
60-80g cream cheese (optional)
1. Mix the Houjicha powder with the 15g of sugar.
2. Mix into the milk and stir until completely dissolved.
• Using ice cream and milk makes a rich smoothie-like beverage
• For a particularly rich drink, add cream cheese and mix well.
*** Houjicha Coconut Cocktail: Shiyoshi ***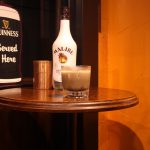 2~3g Houjicha Powder
20-30ml Malibu (Coconut Liqueur)
80ml Milk
Thicken the milk into a paste with a small dose of Houjicha powder, add the Malibu and then stir or shake it (Can be done hot).
*** Houjicha Pancake ***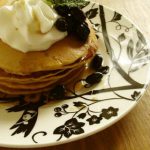 10g Houjicha Powder
1 tablespoon Warm water
200g Flour
1 teaspoon Baking Powder
80g Light brown sugar
150ml Milk
2 Large Eggs
25g Butter
–  2 tablespoons Light brown sugar
–  2 tablespoons Water
Desired amount of whipped cream
1. Dissolve the Houjicha powder into the warm water. Put the 2 tablespoons of brown sugar and 2 tablespoons of water in a pan and let it melt into syrup over low-medium heat. Move the pan around so that it doesn't stick to the pan. Be careful that the syrup stays liquid and doesn't harden into a caramel.
2. Melt the butter in the microwave for 30 seconds.
3. In a large bowl, add the flour, baking powder and sugar. Stir lightly with a whisk, then add the eggs and the milk and stir thoroughly.
4. Add the melted butter to the mix, then the syrup of brown sugar and water, and Houjicha, and stir until the dough is smooth
5.Let the dough rest for at least 30 minutes.
6. Warm up a non-sticking frying pan and bake the pancakes as usual.
*** Houjicha Ice Cream ***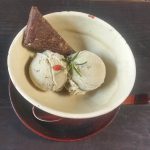 8g Houjicha Powder
200ml heavy cream
3 eggs
60-80g sugar
1. Mix the Houjicha powder with a tablespoon of sugar and a tablespoon of hot water. Stir gently to dissolve.
2. In another bowl, beat the eggs and add the remaining sugar slowly, until well blended. Add inn the cream to the eggs and sugar and mix again.
3. Let everything cool to room temperature, then add the Houjicha Powder/sugar/hot water mix and blend well.
4. Pour the mix into a prechilled bowl and store in the freezer for about 4 hours.