Have you heard of Houjicha tea infused sweets? — scroll down for recipe ideas
In recent years, not only in Japan but also in other countries, Japanese green tea powders have gained much popularity as cooking ingredients. The Matcha trend took off first, but Houjicha flavors are now also under the spotlight as an alternative to Matcha for the preparation of delicious green tea infused sweets and beverages such as roll cakes, ice cream/gelato, pudding, macarons, latte, cocktails and more.
What about Rishouen's Houjicha powder?
At the origin of our culinary powder, there is a special blend of  high quality Uji Sencha  leaves  and stems selected by our tea master for their perfect balance of strength and subtlety.
Before pulverization, the leaves are sand roasted according to traditional Houjicha manufacturing methods so that they can obtain their signature amber color, nutty, caramel flavor as well as their enchanting toasty aroma.
The pulverization of the roasted leaves in an airflow machine allows for the production of a finely ground powder -Granularity: 10μm – emphasizing the flavors, color, and aroma of Houjicha Japanese green tea, which will not fade after baking.
We listed some recipes below, but please don't hesitate to come up with your own ideas! The drinks and sweets below can also be made with our Genmaicha powder if you are interested in experimenting with another green tea flavor.
Houjicha Latte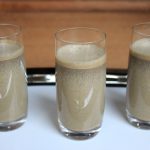 <Ingredients>
Houjicha Powder               10g
Sugar                                   15g
Hot milk/milk substitute  500ml
Cream cheese (optional)  60-80g
 Mix the Houjicha powder with the 15g of sugar.
 Mix into the milk and stir until completely dissolved
 For a particularly rich drink, add cream cheese and mix well.
Houjicha Bubble Tea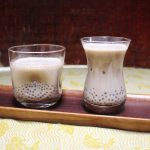 <Ingredients>
Houjicha Powder   3 tsp
Rice milk                  500 ml
Tapioca balls           3 tsp
Cane sugar syrup
Insert 3 teaspoons Houjicha Powder in 500 ml rice milk, stir, then shake the mix into a shaker/ hand blender
Cook the Tapioca balls for 18 minutes in boiling water
Remove the pot from the stove, maintain the Tapioca balls in the hot water for 5 minutes.
Remove the Tapioca balls from the hot water, and rince them in cold water.
Let the Tapioca balls soak in cane sugar syrop for 5 minutes.
 Add the Tapioca balls to the Houjicha powder/ rice milk blend and drink.
Houjicha Coconut Cocktail: Shiyoshi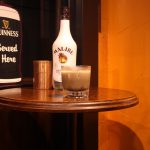 <Ingredients>
Houjicha Powder                      2~3g
Malibu (Coconut Liqueur)       20-30ml
Milk                                             80ml
Thicken the milk into a paste with a small dose of Houjicha powder.
Add the Malibu and then stir or shake. (Can be done hot).
Houjicha Pancake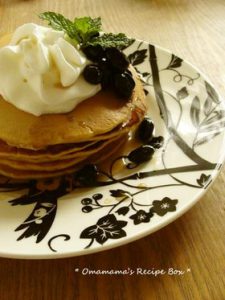 <Ingredients>
Houjicha Powder          10g
Warm water                   1 tablespoon
Flour                                200g
Baking Powder               1 teaspoon
Light brown sugar         80g
Milk                                  150ml
Large Egg                         2
Butter                              25g
2 tablespoons Light brown sugar
2 tablespoons Water
Desired amount of whipped cream
Dissolve the Houjicha powder into the warm water.
Put the 2 tablespoons of brown sugar and 2 tablespoons of water in a pan and let it melt into syrup over low-medium heat. Move the pan around so that it doesn't stick to the pan. Be careful that the syrup stays liquid and doesn't harden into a caramel.
 Melt the butter in the microwave for 30 seconds.
 In a large bowl, add the flour, baking powder and sugar. Stir lightly with a whisk, then add the eggs and the milk and stir thoroughly.
Add the melted butter to the mix, then the syrup of brown sugar and water, and Houjicha, and stir until the dough is smooth
Let the dough rest for at least 30 minutes.
Warm up a non-sticking frying pan and bake the pancakes as usual.
Houjicha Ice Cream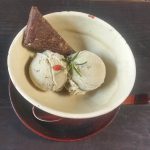 <Ingredients>
Houjicha Powder   8g
Heavy cream          200ml
Egg                           3
Sugar                       60-80g
1. Mix the Houjicha powder with a tablespoon of sugar and a tablespoon of hot water. Stir gently to dissolve.
2. In another bowl, beat the eggs and add the remaining sugar slowly, until well blended. Add inn the cream to the eggs and sugar and mix again.
3. Let everything cool to room temperature, then add the Houjicha Powder/sugar/hot water mix and blend well.
4. Pour the mix into a prechilled bowl and store in the freezer for about 4 hours.