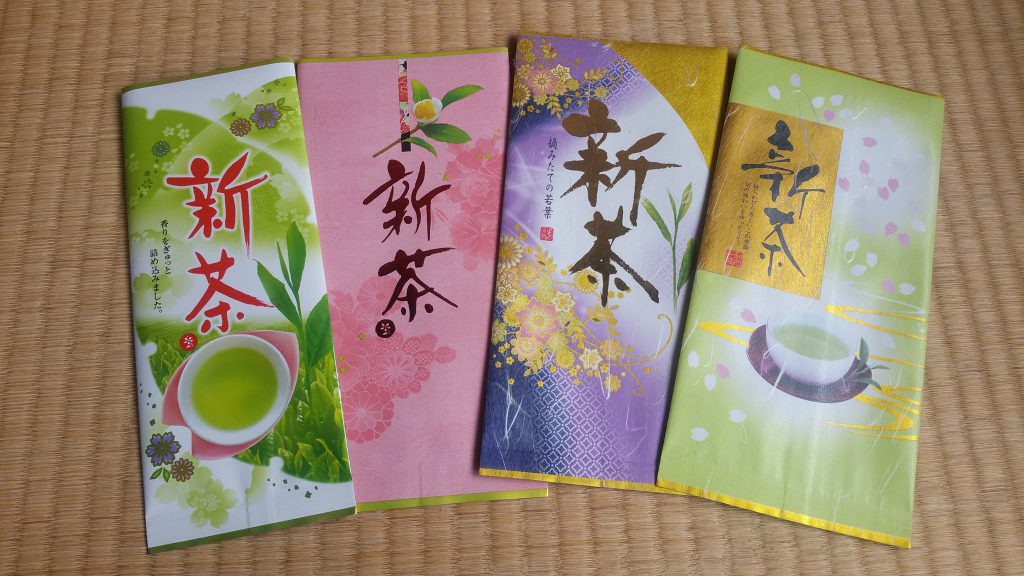 The frenzy of the Shincha season has been keeping us busy the last few weeks!
The First Uji tea auction took place on April 26, and we many of our 2019 Uji Sencha house blends are finished. We also received 3 single field teas (non blend, single cultivar) from Mr. Tsuji, and Mr. Minato.
Finally, we received the organic teas produced by Mr. Nishi and Mr. Komaki in Kagoshima prefecture: (scroll down to find the list of house blends,single field and organic teas below:
Houseblends, range of 2019 spring Uji Sencha:
Regarding our range of Uji Sencha assembled by our tea master, the following teas are now available for sales:
Uji Sencha Hinoka – 60g/ 1000 yen
Origin: Kyoto Prefecture, Special blend 2018 limited edition 
The 2017 version of this tea won the 'Fine Product Award' equivalent to a silver medal at the 2017 Nihoncha Award.
As we have been saying quite often, traditional Sencha produced without shading periods  of the field before harvest are becoming more and more rare in Japan, and we wish to participate in the preservation of this production method. This is why our tea master chose to use 'pure' Sencha leaves grown in full sunlight for this blend, in order to promote the appreciation of traditional Uji Sencha and to prevent this production method from disappearing.
This unique blend takes its name from its production method as 'Hinoka' could be translated into 'Sun Fragrance' in English.
The freshly assembled Uji Sencha Hinoka blend is composed of only two varieties of 2019 spring Sencha grown in Wazuka in the Kyoto prefecture. The main base for this tea are leaves of the Okuyutaka cultivar grown by Mr. Minato, who also grows our single field Kabuse Sencha Saemidori. The Okuyutaka leaves lend their fresh, almost spicy fragrance reminiscent of cinnamon and gentle umami to the blend. The second cultivar, Tsuyu Hikari, offers balance and pushes the flavor revealed by the liquor to a deeper level. By combining these Sencha varietals in an effective ratio, our tea master, Naoki Kagata, was able to craft a blended tea like no other.
It is not common to find Japanese blended teas revealing one of a kind characteristics, as they tend to follow trends and resemble one another. However, in spite of being composed of two types of leaves grown by different producers, the Uji Sencha Hinoka reveals a unique personality, not unlike the single field, non blended Uji teas that Rishouen strives to promote.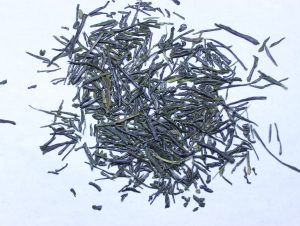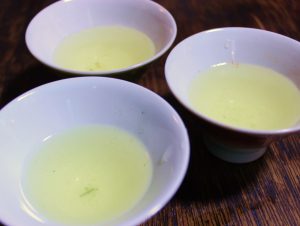 Mujou Betsugi Sencha – 100g/ 3000 yen.
Origin: Kyoto prefecture, Rishouen House blend
This incredibly high quality Sencha bewitches everyone who savors it.
Assembled by our tea masters from dazzling, tender, extremely young spring leaves sourced from excellent Uji producers (some direct trade & some leaves offered during the early days of the  Uji tea auction), this unique blend represents the quintessence of Japanese Sencha: elegant aroma, purity and complexity of flavors, sweet notes and deep umami, soft and delicate liquor revealing just the right amount of gentle astringency.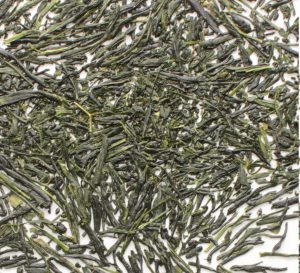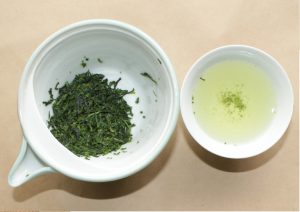 Mujou Sencha – 100g/ 2500 yen.
Origin: Kyoto prefecture, Rishouen House blend
Beautiful dark green leaves left to grow in field a little longer before harvest than the leaves of our higher ranked Mujou Betsugi Sencha mentioned above. This blend composed of leaves that are still tender but more mature brings forth a strong flavor with the combination of delicacy and depth expected of a high quality Uji Sencha.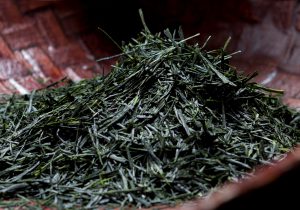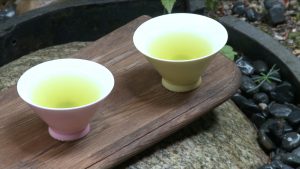 Gokujou Sencha – 100g/ 2000 yen.
Origin: Kyoto prefecture, Rishouen House blend
The leaves of this Sencha have been cultivated until full growth, and thus this tea is characterized by a strong and complex taste. Its delicate astringency will attract the palates of demanding gourmets and the curious beginners alike.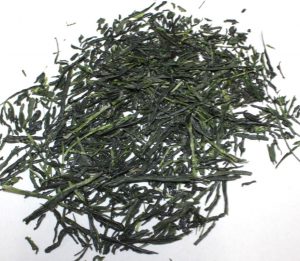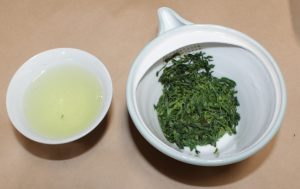 Betsujou Sencha – 100g/ 1500 yen.
Origin: Kyoto prefecture, Rishouen House blend
This Sencha is one of the staples at Rishouen and one of our best sellers. We drink this tea everyday during our morning breaks at the office accompanied by salty or sweet snacks to invigorate our body and stir our spirit.
This tea also gives the first impression of Rishouen teas, as this Sencha is served routinely to each person who comes see us in our office in Uji.
Our Betsujou reveals the fresh fragrance expected of a good Uji Sencha. The full bodied, supple liquor offers the balance between the rich, deep savory flavor and just the right level of pleasant bitterness typical of excellent Sencha from Uji. We recommend trying an infusion at lower temperature (60C) to enjoy its rich umami, with subsequent infusions at higher temperatures to enjoy a large palette of savors, ranging from mellow and round to swift and refreshingly bitter green.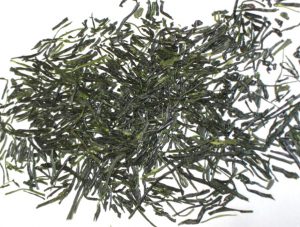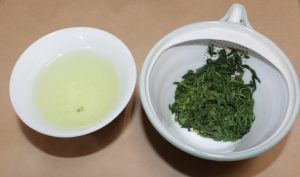 We are still waiting for our 2019 Tokujou and Jou Sencha grade, and will upload them onto this page when they are  ready for sales.
 2019 single field Uji teas grown in the Kyoto prefecture:
Sencha Saemidori by Mr. Minato – 50g/ 1500 yen.
Origin Wazuka, Kyoto prefecture. Single field, single cultivar.
Located in the Yamashiro region in the Kyoto prefecture, Wazuka is the chief Ujicha (Uji tea) production area, and the craddle of Japanese green tea culture. Nestled in sharply slanted hills, Wazuka town and its region enjoys an ideal climate & soil for tea production, and has been producing tea for 800 years, since the Japanese Kamakura era.
Mr. Minato is a young producer in his thirties, who works tiredlessly with his father on their estate in Wazuka.
Talking to Mr. Minato, our tea master & tea buyer, Naoki, had a deep impression of his  passionate efforts to growing the best quality tea possible, as Mr. Minato repeats actions meant to prepare for the Shincha season 3 or 4 times, when these steps are usually only taken once.
This is very time consuming, but, on this subject, Mr. Minato says that 'if it that can help make the final result even just a little better it is worth it'.
Since this tea is not a blend, the leaves reveal the undiluted message of the cultivar, the soil and Mr. Minato's efforts as a producer.
Upon infusion, the liquor reveals a mellow flavor due to its cultivar — the Saemidori cultivar is known for its umami and reduced astringency– & the fact that the field has been shaded from the sun 9 days before harvest. (Not a direct cover, shading on a shelf).
The first infusion yields a deep vegetal umami (fresh steamed spinach notes) and appetizing fragrance of young greens, almost devoid of astringency in spite of the fact that the leaves were harvested only a few days ago.
The second infusion yields delicate green notes, revealing more of the Shincha invigorating flavor, but on a pleasant, reduced level. A long finish with a hint of astringency will tickle the tongue after drinking.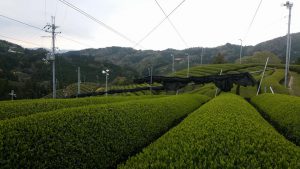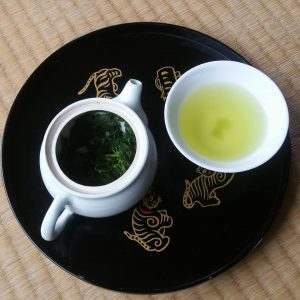 2019 Spring Harvest- Single Field Uji Sencha
Sencha Yabukita Kin Jirushi – 50g, 1250 yen
Cultivar: Yabukita – Location: Harayama – Producer: Mr. Tsuji
This specialty tea composed of leaves of the Yabukita cultivar was grown for us in a single field by Mr. Tsuji in Harayama – a sharp hilled district in Wazuka known for producing some of the best Sencha of the Kyoto region.
The field yielding the Sencha Yabukita Kin Jirushi is situated at a 200 m altitude on an ideal tea producing location on a riverside, at the bottom of a ravine. This location experiences the high day / night temperature difference shaping mellow flavored teas. (Our tea master asked Mr. Tsuji to shade the field 5 days before harvest to emphasize the mellow character of the tea).
The field is also exposed to reduced hours of sunlight and to stagnant cold air and fog emanating from the nearby river, so the leaves grow slowly and stay very tender until harvest time. Red clay soil which retains nutrients well provides the leaves of the Sencha Yabukita Kin Jirushi with a full bodied flavor. The young leaves offer a sweet after taste, and a clear, refreshing fragrance opens up in the back of the nose in a nice retro nasal olfaction effect.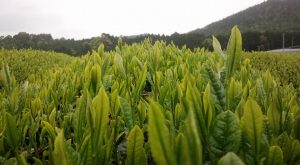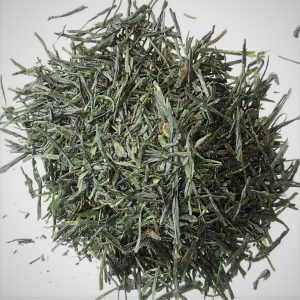 Pure Sencha Yabukita grown in full sunlight by Mr. Tsuji- 80g/ 1230 yen.
Origin Harayama, Kyoto prefecture. Single field, single cultivar. 
This tea is grown on a steep slope facing south by Mr. Tsuji in Harayama, a sharp hilled district in Wazuka known for producing some of the best Sencha of the Kyoto region.
The terrain in Harayama contains rock conglomerates rich in minerals, which, absorbed by the tea trees, offer a crisp, sweet fragrance to the leaves. Furthermore, the black soil in this location retains fertilizers well, allowing the leaves to offer a deep flavor lasting well from one infusion to the next.
This is a 'pure' Sencha composed of leaves grown traditionally in full sunlight without any shading period of the field before harvest.
This production method is becoming rare as more and more tea producers in the Kyoto region shade their fields from the sun a few days before harvest to answer to the demand for mellower teas in Japan. By doing so, they are producing 'Kabuse Sencha' — kabuse means covered, or shaded –, creating new Sencha characteristics and moving away from traditional Sencha production methods.
However, there are still tea lovers who enjoy the typical fragrance and pleasing astringency of traditionally produced Sencha.
Our tea buyer and blender, Naoki Kagata, very much appreciates the flavor and fragrance of pure, non shaded Sencha, and wishes to promote them so that they don't disappear. That is the reason why he has asked Mr. Tsuji, year after year, to let the leaves grow in full sunlight so that we could obtain a tea revealing the nostalgic and rejuvenating sensations offered by traditional Uji Sencha, along with the refreshing fragrance offered by pure Sencha grown in Harayama.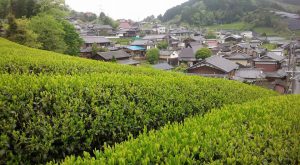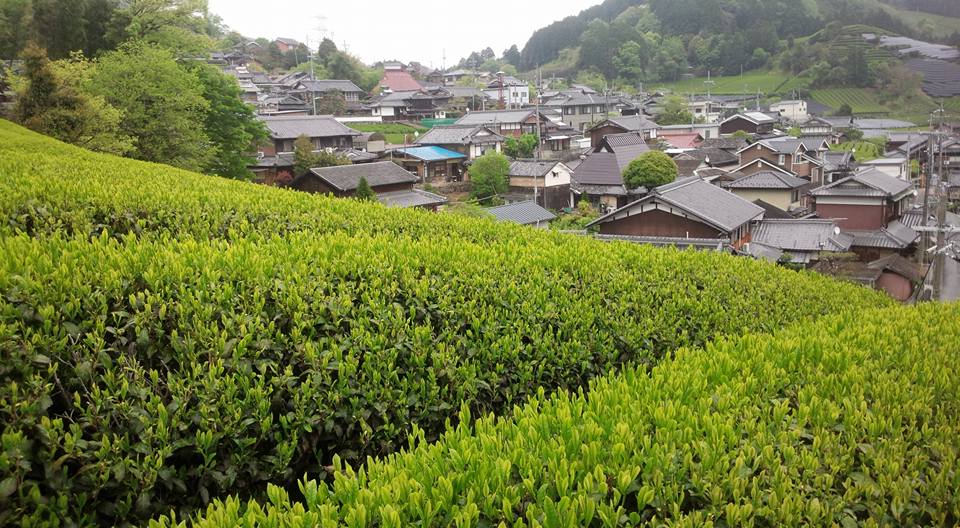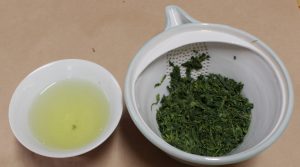 Organic teas by Mr. Nishi, origin Kirishima, Kagoshima
JAS Organic Gyokuro Mizuumi, 2019 Spring Harvest – 100g/ 2304 yen

This spring harvest Gyokuro of the Saemidori cultivar is produced in Makizono, Kagoshima by Mr. Nishi, a producer known for his excellent organic production methods.
Having been shade grown 21 days before harvest under a dark fabric hung above the field to prevent the full light of the sun from reaching the leaves (oishitaen shading method), this tea reveals the deep fragrance typical of shaded teas, and contains increased chlorophyll levels which results in a deeper, sweeter flavor and reduced astringency.
The lush, dark green, finely shaped leaves develop an incredible Umami that will make the drinkers feel at peace while charming their taste buds with  delightful sweet notes.
JAS organic Sencha Saemidori, 2019 Spring Harvest –  100g/ 1404 yen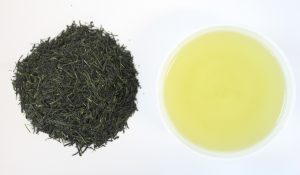 The Saemidori, or « clear green » cultivar results from the crossbreeding of the asatsuyu and yabukita cultivar. This cultivar is native to Kagoshima and is characterized by a fresh, citrusy aroma as well as a bright green liquor and a sweet flavor with deep Umami.
To add to the natural sweetness of its cultivar, this Sencha is composed of leaves grown in a field covered from the sun 6 days before harvest to allow for the extraction of mellow flavors after infusion.
Our organic first flush Saemidori  is produced on the foot of the Kirishima volcanic mountain range by Mr. Nishi, one of the best producers in Kagoshima. Its glossy emerald green leaves are kneaded into elegant needle shapes, allowing for the added pleasure of viewing beautiful leaves before tasting a delicious tea.
JAS Organic Sencha Yabukita, 2019 Spring Harvest –  100g/ 961 yen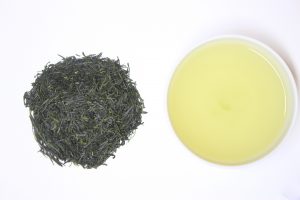 This spring tea of the Yabukita cultivar is produced by Mr. Nishi in Makizono, Kagoshima.
This tea is composed of leaves grown in a field covered 5 days before harvest so that they can develop a mellower flavor than traditional Japanese Sencha which are absolutely not covered from the sun before harvest.
Its leaves have a very beautiful thin needle shape and a dark and glossy green color.
The cultivar Yabukita is used for the production of 70% of Japanese green teas, and is especially fit for the production of balanced Sencha revealing both a round umami and a deliciously refreshing vegetal flavor.
Our JAS Organic Sencha Yabukita offers a very deep savory flavor with sweet and mellow notes at lower temperature, and develops a subtle astringency at higher temperature. This tea perfectly expresses the quintessence and balance of Japanese Sencha.